Featured Article:
HIV-Positive Youth Empowerment in Swaziland: An Evaluation of the Social Stigma Surrounding HIV
By
2014, Vol. 6 No. 06 | pg. 2/2 |
«
Current HIV-Positive Youth Empowerment Programs
Several interventions have been implemented in both developed and developing countries in order to reduce HIV/AIDS stigma. These interventions have focused on four primary types (Brown, Trujillo, and Macintyre 2001): information-based interventions, coping skills interventions, counseling interventions, and contact interventions with HIV-positive individuals. Combinations of any or all of the four interventions have been studied throughout various communities globally.
Information-based interventions focus on providing community members and healthcare workers with facts on HIV/AIDS, typically through pamphlets or lectures. Generally, it was found that providing this information allows for greater tolerance of individuals who are living with chronic HIV/AIDS. When combined with counseling, individuals with specific familial issues associated with an HIV-positive loved one, the information-based approach reduced anxiety associated with being tested for HIV infection.
Coping skills acquisition has also been an effective means of diffusing social stigma regarding HIV-positive individuals. In Tanzania (Klepp
et al
., 1997), group discussions along with information sessions held by healthcare workers and teachers helped to improve attitudes and reduce negative feelings towards HIV-positive individuals. There have also been a few efforts to connect unaffected individuals with affected individuals, through conversations and testimonials, to reduce negative societal feelings towards HIV. There is not much data available on interventions specifically towards helping HIV-positive adolescents rise above this social stigma.
Specifically in Swaziland, it is critical to note that the Swazi government has not addressed the social stigma to a large degree, and the policy efforts have not made a significant impact in the community beliefs and attitudes about HIV (Root 2010). In addition, there are few programs that focus on HIV-positive adolescents in Swaziland. The Baylor International Pediatric AIDS Initiative (BIPAI) has established an HIV clinic in Mbabane, Swaziland—and within its other clinics in Uganda and elsewhere—that holds a monthly Teen Club program for youth development (http://bipai.org/About-BIPAI/Teen-Club-International.aspx). Through peer mentorship, workshops, fun activities, and education about HIV, the teen club hopes to foster strong relationships between HIV-positive adolescents and club volunteers.
A Pen Pal Program to Effectively Empower HIV-Positive Adolescents in Swaziland
Because lack of social support in HIV-positive adolescents was shown to increase perceived discrimination, it is critical to provide this emerging demographic in Swaziland with a consistent role model for psychosocial and peer support. It was found that an HIV-positive adolescent who has at least one friend is less likely to perceive HIV-related discrimination (Surkan, et al., 2010), allowing the adolescent to grow in a nurturing environment. In Haiti, 39.2% of parents with HIV-positive children did not have a confidant reported instances of HIV-related discrimination; compared to only 30.3% of parents with HIV-positive children who had a confidant reported instances of HIV-related discrimination (Surkan, et al., 2010). From this, the importance of a support system for HIV-positive adolescents is critical within a society of social stigma towards HIV/AIDS.
In order to provide that consistent support system for HIV-positive adolescents in Swaziland, we propose a novel intervention—a three part pen pal program—to facilitate confidence and leadership building discussions between these HIV-positive adolescents and U.S. college students for a period of several months. The first part of the pen pal program would be to educate the college student volunteers in several subjects, through a formal webinar series focusing on five primary areas: (1) Swaziland cultural competency and epidemiology, (2) medical perspective on HIV/AIDS, (3) Psychosocial analysis on youth with HIV/AIDS, (4) Leadership building and Next Steps for HIV Positive Adolescents. The ultimate goal of this education piece is to understand the social determinants of health, and to provide the tools for these U.S. college volunteers to become competent empowerment catalysts for HIV-positive adolescents in Swaziland.
To better assess the need of an educational component for college volunteers within a pen pal intervention, we conducted an informal electronic survey among 56 college students nationally to understand the awareness of HIV and the interest in such a pen pal program. The characteristics of the students can be found in Table 3. Overall, the survey found that over 55% of participants were only somewhat knowledgeable about the biology and epidemiology of HIV, and that 40% were only somewhat aware of the psychosocial impact and social stigma surrounding HIV (Figure 5). However, nearly half of the participants described themselves as "very interested" in participating in the intervention as a peer mentor in the pen pal program. While interest is high in such a program, it is crucial to provide these college students with the education they need to be highly aware of the biology and epidemiology of HIV as well as of the social stigma that surrounds it.
Table 3: Characteristics of the 56 U.S. college students voluntarily enrolled in the informal survey.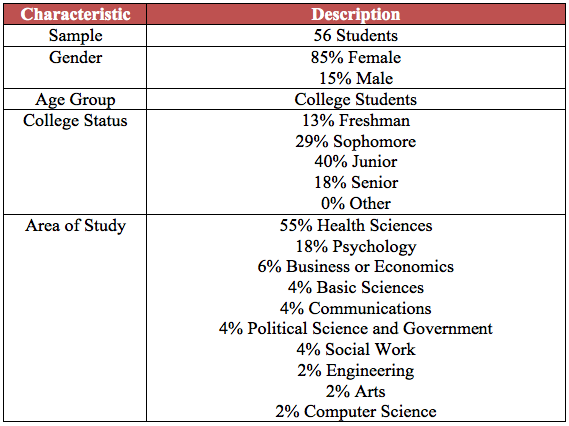 Figure 5: Results of the informal survey on a pen pal intervention for HIV-positive adolescents in Swaziland. 56 U.S. college students volunteered to complete the survey. 5a. Awareness of the social stigma of HIV and the biology of HIV. 5b. Interest in becoming a peer mentor. 1 represented "uninterested" and 5 represented "very interested."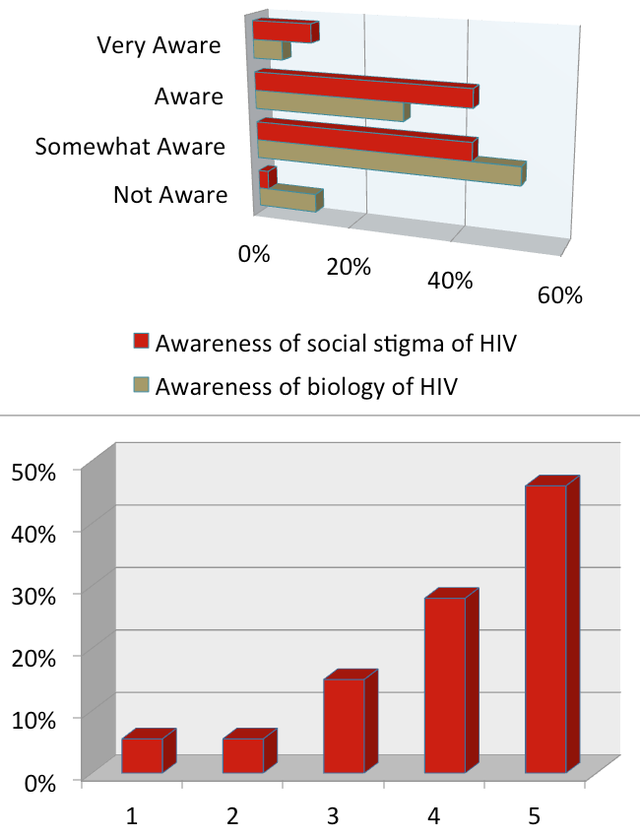 The second part of the pen pal program would be to connect one trained U.S college volunteer with one HIV-positive adolescent for several months in order to establish an intimate relationship of empowerment. And lastly, the third part of the pen pal program is to translate the empowerment into action. To measure the empowerment of the HIV-positive adolescent, each adolescent would be required to complete a community service or leadership activity, either independently or offered through programs such as BIPAI's Teen Club program, to highlight their empowerment and provide a measure of the success of such an intervention. It is critical that each of these three steps be employed in order for HIV-positive adolescents to truly be empowered and become future leaders in their communities. Ultimately, having a mentor through this pen pal program would allow the adolescent to obtain advice, confidence therapy, and emotional support to encourage personal leadership, transcending into communal growth. Such a program would inspire and enhance leadership in both the adolescent and the volunteer; after all, participating in the program would inspire the volunteers and adolescents to spread awareness of HIV within their communities to slowly diffuse the stigma associated with the infection.
A tailored pen pal program aimed at HIV-positive youth empowerment is not new; a similar program has been successfully established by the China AIDS Fund (http://www.chinaaidsfund.org/henan-children-project). However, such an intervention has not been applied to Africa, nor has it contained an education component for volunteers to truly become role models for HIV-positive adolescents or an action component to allow these adolescents to have a tangible project to showcase their empowerment and leadership development.
Conclusions
This analysis of the current state of HIV in Swaziland as well as the social stigma surrounding HIV-positive individuals in Africa, is a call for empowerment of HIV-positive adolescents. A novel intervention that educates mentors, connects the mentors with HIV-positive adolescents in Swaziland facilitating the formation of a social support system, and the participation of the adolescents in a community service project to showcase their leadership within their communities, is one of the first to specifically target the HIV-positive adolescent population.
The lack of focus in the literature on the emerging demographic of HIV-positive adolescents is an indication of the lack of intervention and the requirement for an intervention such as a pen pal program. Therefore it is imperative to begin an initiative to empower and develop leadership in these young adults to save a generation of potential leaders and ambassadors as well as omit the social stigma surrounding HIV in Swaziland.
---
References
African Union. (2003). African (Banjul) Charter of Human and People's Rights.
Brown, L., Trujillo, L., & Macintyre, L. (2001). Interventions to Reduce HIV/AIDS Stigma: What Have We Learned? The Population Council, 1-35.
Dlamini, P.S., Kohi, T.W., Uys, L.R., Phetlhu, R.D., Chirwa, M.L., Naidoo, J.R., Holzemer, W.L., Greeff, M., & Makoae, L.N. (2007). Verbal and Physical Abuse and Neglect as Manifestations of HIV/AIDS Stigma in Five African Countries. Public Health Nursing, 5, 389-399.
Grabar, S., Le Moing, V., Goujard, C., Egger, M., Leport, C., Kazatchkine, M.D., & Costagliola, D. (2005). Response to highly active antiretroviral therapy at 6 months and long-term disease progression of HIV-1 infection. Journal of Acquired Immune Deficiency Syndromes, 39, 284-292.
Holzemer, W.L., Uys, L., Makoae, L., Stewart, A., Phetlhu, R., Dlamini, P.S., Greeff, M., Kohi, T.W., Chirwa, M., Cuca, Y., & Naidoo, J. (2006). A conceptual model of HIV/AIDS stigma from five African countries. Journal of Advanced Nursing, 58, 541-551.
International Conference on Population and Development Beyond. (2014). Swaziland Country Implementation Profile. UN Population Division, 1-4.
Klepp, K.I., Ndeki, S.S., Leshabari, M.T., Hannan, P.J., & Lyimo, B.A. (1997). AIDS education in Tanzania: promoting risk reduction among primary school children. American Journal of Public Health, 87, 1931-1936.
Kohi, T.W., Makoae, L., Chirwa, M., Holzemer, W.L., Phetlhu, D.R., Uys, L., Naidoo, J., Dlamini, P.S., & Greeff, M. (2006). HIV and AIDS Stigma Violates Human Rights in Five African Countries. Nurse Ethics, 13, 404-415.
Martinez, J., Harper, G., Carleton, R.A., Hosek, S., Bojan, K., Glum, G., Ellen, J., & the Adolescent Medicine Trials Network. (2012). The Impact of Stigma on Medication Adherence Among HIV-Positive Adolescent and Young Adult Females and the Moderating Effects of Coping and Satisfaction with Health Care. AIDS Patient Care STDS, 26, 108-115.
Root, R. (2010). Situating experiences of HIV-related stigma in Swaziland. Global Public Health, 5, 523-538.
Surkan, P.J., Mukherjee, J.S., Williams, D.R., Eustache, E., Louis, E., Jean-Paul, T., Lambert, W., Scanlan, F.C., Oswald, C.M., Fawzi M.S. (2010). Perceived discrimination and stigma toward children affected by HIV/AIDS and their HIV-positive caregivers in central Haiti. AIDS Care, 22, 803-815.
UNAIDS. (2014). Swaziland: HIV and AIDS estimates. Retrieved from http://www.unaids.org/en/regionscountries/countries/swaziland/.
UNAIDS. (2012). Swaziland Country Report on Monitoring the Political Declaration on HIV and AIDS. Global AIDS Response Progress Reporting, 1-84.
UNAIDS and NERCHA. (2010). Swaziland HIV estimates and projections report. 1-21.
Whiteside, A., Hickey, A., Ngcobo, N., & Tomlinson, J. (2003). What is driving the HIV/AIDS epidemic in Swaziland, and what more can we do about it? National Emergency Response Committee on HIV/AIDS and United Nations Programme on HIV/AIDS. 1-58.
World Health Organization. (2007). HIV/AIDS Programme, Strengthening health services to fight HIV/AIDS: WHO case definitions of HIV for surveillance and revised clinical staging and immunological classification of HIV-related disease in adults and children. WHO Press, 1-48.
World Health Organization. (2006-2007). Swaziland Demographic and Health Survey.
Suggested Reading from
Inquiries
Journal

Inquiries Journal provides undergraduate and graduate students around the world a platform for the wide dissemination of academic work over a range of core disciplines.
Representing the work of students from hundreds of institutions around the globe, Inquiries Journal's large database of academic articles is completely free. Learn more | Blog | Submit
Latest in Health Science
What are you looking for?