Featured Article:
Health Care Utilization in the Kenyan Health System: Challenges and Opportunities
By
2010, Vol. 2 No. 09 | pg. 1/3 |
»
A country of approximately 37 million people, Kenya has struggled to build a health system that can effectively deliver quality health services to its population. Access to health care varies widely throughout the country and is determined on numerous factors, though in particular, major divides exist between rural and urban communities, and between the moneyed elite and the poorer masses. In Kenya, the poorer masses—those living below the national poverty line—constitute approximately 52% of the population.i
According to the World Health Organization (WHO), in 2007 the average life expectancy for both sexes in Kenya was 54 years, compared to a global average of 68 years.ii Healthy life-years are anticipated at 48, with 82% of lost healthy life-years attributed to communicable disease.iii The overall under-five child mortality rate is approximately 121 per 1000 live births, or roughly double the global average.iv However, this number drops significantly, to 91 per 1000, for the wealthiest 20% of the population, while it jumps to nearly 150 for the poorest 20%.v
The prevalence of communicable disease in Kenya is a major factor in determining health outcomes. HIV prevalence among urban adults is estimated at 10%, versus an estimated 5.6% for rural adults.vi HIV prevalence is not evenly distributed throughout the country, with prevalence rates in Nyanza province nearly double the national average.vii Compounding the challenge presented by high HIV positive rates, there were in excess of 100,000 cases of Tuberculosis (TB) in 2008, with co-infection rates for TB and HIV of 45%.viii Malaria represents another significant burden, with 13.6% of deaths in children under five caused by the disease.ix The WHO refers to Malaria as a "a major public health problem in Kenya."x The disease is ubiquitous among adults living in malarial areas.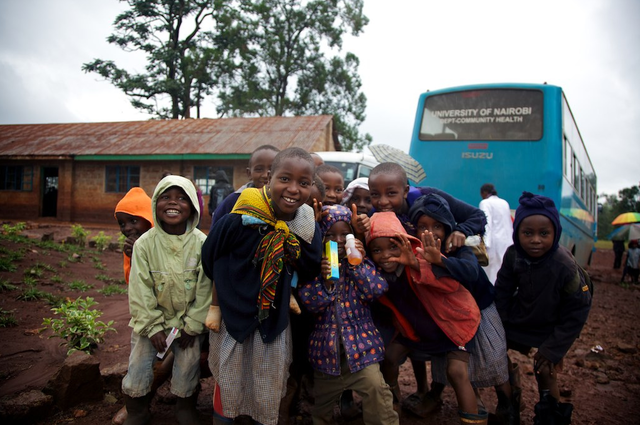 This paper is based on observations from visits by the author to dozens of Kenyan health facilities between May and June 2010. Photo © Dustin Turin.
Considering this challenging health landscape, utilization of health services is a key factor in improving health outcomes for Kenyans, in both the short- and long-term. Currently, the level of and access to care varies by region, with the most facilities per person located in Central Province, and the least located in the border provinces of Western Valley and Nyanza.xi According to recent data, the health care utilization rate in Kenya is approximately 77% for those who are sick, meaning that a large percentage of the population does not seek care despite being ill.xii In order to bring about broad improvements in health in Kenya, it is essential to understand who is currently using the facilities that are available, and what factors are preventing those who do not seek care from doing so.
This paper explores the Kenyan health system and the two major factors that prevent individuals from seeking care—cost and access—and also addresses the existence of other social and cultural factors that might affect health seeking behavior and utilization of health services.
II. Overview of the Kenyan Health System
A hierarchical structure, the Kenyan health system is administered from the top down by the Ministry of Health (MOH), an institution which remains broken into two sister Ministries since the post-election turmoil of 2007: the Ministry of Medical Services, and the Ministry of Public Health and Sanitation. The split of MOH has led to additional strain on the health system by causing overlap and inefficiency in both planning and implementation processes, in addition to the obvious inefficiency that has accompanied the maintenance and daily operations of two separate institutions in the place of one.xiii
Health facilities are distributed regionally, with the most sophisticated services available in the major cities or only at the national level. At the top of the service spectrum are the National, Referral, and Teaching Hospitals (NRTH) such as Kenyatta National Hospital in Nairobi. The next best level of care is found in the provincial hospitals, followed by sub-district hospitals. Beneath the sub-district level, there are health centers, dispensaries, and at the bottom of the heap, community health organizations.
Visiting these different facilities, stark disparities are apparent both vertically, between the different levels of care, and also horizontally, from facility to facility in different regions.
One example of these contrasting levels of care is available within a single facility, the Kenyatta National Hospital (KNH). KNH offers both public and private wards in the same facility, attended by the same doctors. A patient in the public ward, as we witnessed, can expect to spend long hours waiting to be seen, and will likely be expected to share one bed with another patient. These patients are grouped in large, open, chaotic rooms and afforded no privacy. The cost, however, is minimal when compared to the private ward of the hospital, where a room costs between Ksh. 2,350 – 4,000 per night.xiv The doctors attending both the public and private ward are the same, though they are paid at a higher rate for working in the private wing.
While both public and private patients can expect to receive a high level of care at KNH, the disparity between services offered there and at a provincial hospital can be substantial. Visiting the Provincial General Hospital in Nyeri, there was a major drop in the quality of care. On the day of our visit, the hospital was under strain from a shortage of morphine, the gold standard in pain management for major trauma, and patients were visibly suffering from this shortfall.
At the health center level and below, a minimal level of care can be expected, with serious conditions being referred to the nearest hospitals or private facilities. Health centers tend to focus on basic services such as diagnosis, counseling and testing, maternal and child health, and the prescription of medication. At some centers, simple surgical procedures such as male circumcision may also be available.
The Kenyan health system is also strongly impacted by the work of non-governmental organizations (NGOs), including faith-based organizations (FBOs) and private health facilities. In 2008, the Government of Kenya (GOK) operated 48% of the country's health facilities, with NGOs/FBOs operating a combined 15% (13% FBO, 2% NGO), and the private for-profit sector operating 34% of all facilities.xv Not surprisingly, private facilities offer a superior level of care when compared to public facilities of comparable scope, though they remain out of reach for most of the population due to their high cost.
Facilities operated by NGOs are often the best balance of care and cost where they are available. At the Lwala Community Health Center, a facility operated by the NGO group Lwala Community Alliance, the minimal fee of Ksh. 50 (about $0.65 USD) is waived for up to 85% of patients, according to Executive Director James Nardella. As a result of the high quality of care and low cost, patients come from a wide area of up to 30 to 40 kilometers to access the facility. Unfortunately, this phenomenon also challenges the sustainability of the facility, which is almost completely reliant on donor funding. In the NGO sector as a whole, reliance on donor funding is often the limiting factor that prevents facilities from offering a broader service spectrum, or offering services to more people.
Overall, and as outlined in the National Health Sector Strategic Plan II (NHSSP II), the health system is relying on a Sector Wide Approach (SWAp) that aims to integrate the efforts of public, private not for-profit (NGO/FBO), and private for-profit health facilities into a unified drive towards "health for all." This approach has so far had mixed results, with some facilities collecting and sharing data with the broader health system (such as the Bomu Medical Center in Mombasa, a privately run NGO facility), while others have failed to integrate successfully.Continued on Next Page »
Suggested Reading from
Inquiries
Journal

Inquiries Journal provides undergraduate and graduate students around the world a platform for the wide dissemination of academic work over a range of core disciplines.
Representing the work of students from hundreds of institutions around the globe, Inquiries Journal's large database of academic articles is completely free. Learn more | Blog | Submit
Latest in International Affairs
What are you looking for?