Featured Article:
Sexual Relations Between Elite White Women and Enslaved Men in the Antebellum South: A Socio-Historical Analysis
By
2013, Vol. 5 No. 08 | pg. 1/3 |
»
Abstract
There is ample evidence of sexual relations, from rapes to what appear to be relatively symbiotic romantic partnerships, between white slave masters and black women in the Antebellum South. Much rarer were sexual relations between white women and black slave men, yet they too occurred. Using an intersectional socio-historical analysis, this paper explores the factors that contributed or may have contributed to the incidence of sexual encounters between elite white women and slave men, the power dynamics embedded in them, and their implications in terms of sexual consent. The paper demonstrates how upper-class white women who engaged in these relationships used sex as an instrument of power, simultaneously perpetuating both white supremacy and patriarchy.
According to former slave Harriet Jacobs, author of Incidents in the Life of a Slave Girl (1861), "The slave girl is raised in an atmosphere of licentiousness and fear. The lash and the foul talk of her master and his sons are her teachers. When she is fourteen or fifteen, her owner, or his sons, or the overseer, or perhaps all of them, begin to bribe her with presents. If these fail to accomplish their purpose, she is whipped and starved into submission to their will." Jacobs' account of the sexual violence endured by slave women is merely one of many. Although it is impossible to know exactly how many black women were sexually assaulted under slavery, such abuse was widespread.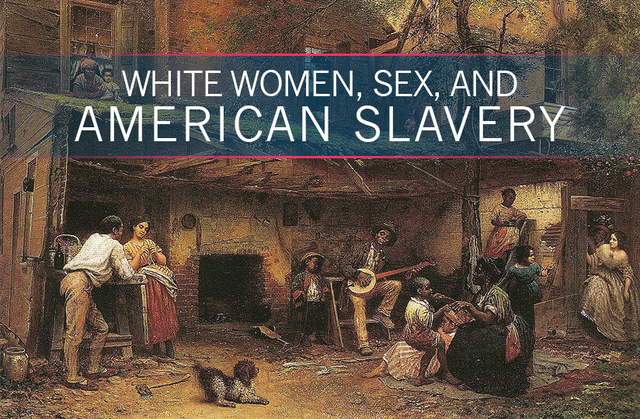 Not all sexual encounters between masters and female slaves would be considered rape according to most definitions of the term.1 Concubinage-type arrangements and even long-term romantic partnerships, perhaps most famously that of Thomas Jefferson and Sally Hemmings, were known to exist. Yet, many scholars would agree that "even presumably affectionate and long-term relationships must be reconsidered given the context of slavery" (Foster, 2011, p. 459). The enormous imbalance of gender and racial power between the two parties problematizes the notion of a truly consensual romantic relationship between a slave master and his female slave. These so-called consensual sexual partnerships can be seen, like rape, as an exercise in white patriarchal authority.
Why these women chose to sexually abuse slaves probably varied by situation. Perhaps some of them were simply bored or sexually frustrated. But perhaps, at least on a subconscious level, sexually exploiting slaves was a means of compensating for their lack of power in other aspects of their lives.
But what of sexual relations between planter-class white women and slave men? Under what conditions did they occur? How should they be described in terms of power, agency, and consent? Answering these questions involves analyzing historical records through the lens of power relations, parsing through the complexities of racial, class, and gender hierarchies. By "focusing attention on the ways that multiple and sometimes conflicting sources of oppression and power are intertwined," such an intersectional analysis allows us to make sense of how persons occupying a position of low-status in one social arena can simultaneously occupy one of high-status in another (Aulette, Wittner, and Blakely, 2009, p. 5). They also allow us to observe the processes by which social hierarchies are sustained. In the case of white women and black men, we can use an intersectional analysis to better understand the ways in which elite Southern white women used oppressive, gendered notions of female purity and sexual subservience to maintain racial hierarchy.
"Prisoners in Disguise"
As guardians of the home, planter-class white women were responsible for upholding traditional Christian values and keeping peace within the domestic sphere. As such, they were valued for their homemaking abilities, maternal instinct, and, perhaps above all else, their virtue. As one letter to a South Carolinian periodical geared toward young women put it,
If a female possesses beauty, wealth, and, in short, all the accomplishments which wealth can purchase… without VIRTUE, she is "nothing worth." Her accomplishments may be admired by some for a little while, it is true; but she will never be truly esteemed… Permit me to ask, which would you rather have, Virtue without accomplishments, or accomplishments without Virtue? (Anonymous, 1832).
Women were seen as physically and intellectually inferior to men, but much more pious, pure, and moral (Firor Scott, 1970, 4; Varon, 1998, pp. 10, 13). This trope is expressed by Rev. William Hooper in his 1947 address to the graduating class of the Sedgwick Female Seminary in Raleigh, North Carolina:
Leave men to themselves without the intermixture of female society and the softening influence of female modesty, gentleness and affection, and they would infallibly become rude, harsh, coarse, quarrelsome, and in their quarrels cruel and unrelenting. The world would resemble an amphitheatre of wild beasts.
The honor and virtue Southerners attributed to white women—especially of the upper class—was "nearly synonymous with a reputation for sexual purity, sustained by restraint, prudence, and modesty in every area of life" (Elder, 2012, pp. 583-84).
"If you want to be fully convinced of the abominations of slavery, go on a southern plantation, and call yourself a negro trader. Then there will be no concealment; and you will see and hear things that will seem to you impossible among human beings with immortal souls." Harriet Ann Jacobs
White women's sexuality was heavily regulated by law as well as by culture. Adultery was considered a greater offense for women than for men, and was punished more harshly. Similarly, "giving birth out of wedlock was... considered much more of a social problem for white women than for anyone else" (Young and Spencer, 2007, p. 69).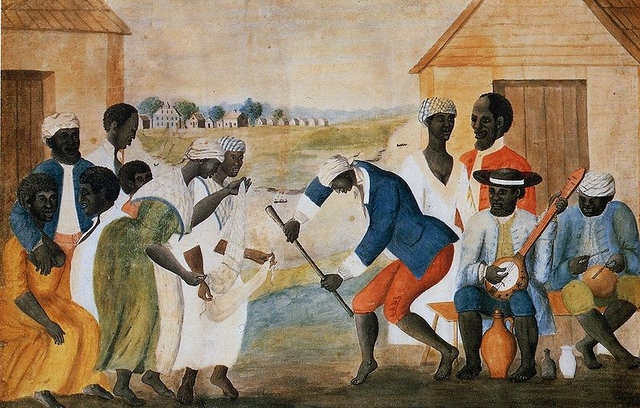 The Old Plantation (Slaves Dancing on a South Carolina Plantation), circa 1785-1795, attributed to John Rose.
The Southern way of life, and the institutions that defined it—white supremacy, slavery, and the planter aristocracy—were inextricably linked with the sexual regulation of women, especially upper class women; the purity of white women, when contrasted with the sexually lascivious black Jezebel archetype, served to highlight the alleged superiority of white womanhood, and by extension, whiteness (Brooks Higginbotham, 1992, p. 263). As historian Catherine Clinton (1982) observes, "If plantation mistresses could live above reproach, their husbands, fathers, sons, and brothers could boast of the superiority of their civilization… The sullying influence of slavery must not touch the women of the upper class lest the entire structure crumble."Continued on Next Page »
Suggested Reading from
Inquiries
Journal

Inquiries Journal provides undergraduate and graduate students around the world a platform for the wide dissemination of academic work over a range of core disciplines.
Representing the work of students from hundreds of institutions around the globe, Inquiries Journal's large database of academic articles is completely free. Learn more | Blog | Submit
Latest in History
What are you looking for?