Featured Article:
On the Necessity of Developing General Education for Undergraduates in Chinese Higher Institutions
By
2018, Vol. 10 No. 04 | pg. 1/1
Abstract
The promotion of general education is a matter of ongoing debate owing to the pressing question of how to improve higher education in China. However, the available analytical material still remains somewhat experiential and emotion-oriented.In this paper the author—an undergraduate student of engineering who has received professional education at a prestigious top 10 university in China—reviews the origins of and literature pertaining to general education in the West. Subsequently in its literature review and cultural criticism study,this paper demonstrates the importance of developing general education. Further,this study exploresthe main problems faced by students in contemporary Chinese higher education institutions: difficulties in pursuit of interest, uncertainty of career plans, lack of motivation and psychological barriers. Next, detailed analysis unveilsthe link between the aims and needs of general education.Finally, the author provides a practical model for applying general education, a form of student society—namely a students' campus forum for improving humanities education for science and engineering undergraduates. The conclusion reiterates an argument for the rethinking of balance between professional education and general education: for 'living' rather than simply achieving 'competence in an occupation'; becoming both 'a good man' and 'a good citizen'.
China's Ministry of Education has promoted the reformation of the educational system since 2005. Most domestic universities have begun to establish a new recruitment drive to cultivate diverse talents within undergraduate education. This aims to meet the increasing need for highly qualified and creative young people to contribute to professional development. General education (liberal arts education) has been weakened under such circumstances. On the other hand, research into curriculum design in the West demonstrates that general education matures and enhances performance in relation to engineering practice and scientific innovation for students. Top Chinese universities like Tsinghua University, Peking University, Fudan University and Sun Yat-sen University have recently made attempts to reform their liberal arts educational systems. However, these attempts have not aroused much attention from contemporary Chinese educational specialists. Liberal arts education is still ignored in the academic community. Through exploration of contemporary phenomena, current problems and critical research, this paper claims that general education is essential for Chinese undergraduates for the following four purposes: (1) to help students find value in the exam-oriented educational system; (2) to make it easier for students to deal with confusion in the professional field; (3) to enhance students' ability to plan for their long term future career; (4) to enrich students' spiritual life. The author provides a demonstration of general education in the form of an undergraduate students' campus forum, Shengsheng Forum, which is an innovative attempt to promote liberal arts education advocated by students in contemporary Chinese higher education.
A Brief Introduction to General Education
The importance of 'general education' became widely known with the publication of "General Education in a Free Society: Report of the Harvard Committee" in 1945. It represents an effort which can "both shape the future and secure the foundations of our free society" (cf. Pusey, 1946: 162). The theory of general education starts with a "belief in the dignity and mutual obligation of man [that the] true task of education is […] to reconcile the sense of pattern and direction deriving from heritage with the sense of experiment and innovation deriving from science that they may exist fruitfully together" (cf. ibid).
The concept of general education points to the desirability of a specific education by means of which all students should acquire certain skills and common methods of learning, "to think effectively, to communicate their thought clearly, to make relevant judgments, and to discriminate successfully among values" (Wilson, 1946: 186). The point of a general education is to develop self-sufficiency and critical thinking skills in students. A student's desire for knowledge is related to their physical environment, their worth in society, and to their own inner life (ibid). The suggestions for Harvard College take the form of definite curricula that requires (1) the pursuit of a given number of courses in general education not previously offered and (2) the modification of other courses previously given that will emphasize general education as well as special education, to which they have heretofore been largely devoted (ibid: 187). In a word, general education is concerned with "living" rather than "competence in an occupation" (Pusey, 1946: 162).
General education in China has experienced ups and downs. Chinese scholars have studied its importance and localization/sinocization since the 1990s. With governmental support, professional education based on general education was once a dominant model in higher education after 1995 (Li, 2006: 90). According to Chen's study (2006a, 2006b), general education is a kind of talent training model in the Chinese environment. The goal is to develop a complete person with long-term vision, accommodative knowledge and a liberal spirit. Rather than just acquire a narrow area of expertise, students are expected to have a comprehensive understanding of the whole of human knowledge; for example, original viewpoints and open ways of thinking. Thus they may learn essential knowledge and experience a meaningful educational process. Liberal arts education can promote critical thinking ability, nurture essential knowledge and establish morality.
Liberal arts education ideally encourages students to cultivate noble moral sentiments, as well as to attain the ability to explore and solve problems independently. They are expected to actively and effectively participate in social public affairs and become responsible citizens as well. In other words, general education is concerned with the cultivation of a person first, and the cultivation of students as professionals second.
It is necessary to point out that general education refers to mutual accommodation across different disciplines. The problems can be more open, from the perspectives of interdisciplinary thinking, data collection, communication and cooperation, to achieve different cultural and professional outcomes.
General Education in the West
In the West, higher education includes humanities curricula so that students can select the courses which fit their interests and hobbies. This can help students improve their self-consciousness and innovativeness. As established in "General Education in a Free Society," areas of knowledge include science, social studies and the humanities, whereas mental traits include the ability to think effectively, clear communication, the capacity to make relevant judgments, and the ability to discriminate between values. It is an obligation of general education to cultivate both a good man (one who possesses an adequate philosophy of life) and a good citizen (one who is properly aware of the obligation to co-operate with his fellow-men) (cf. Pusey, 1946: 162).
Bai (2015) conducted a comparative study of curricula of general education at Harvard, Stanford and the Massachusetts Institute of Technology (MIT). An undergraduate course at Harvard University consists of several core courses, a selection of specialized courses, and elective courses. The proportion of each kind of courses is 31% (8 core courses), 41.4% (16 specialized courses), and 27.6% (8 optional courses) respectively. The core curriculum covers 7 areas, including literature, art, history, foreign culture, ethics, social analysis, quantitative reasoning, and science. The school stipulates that each student must take 8 core courses that have little or no relevance to his or her major. The undergraduate course at Stanford University is composed of public courses, specialized courses and optional courses. The proportion of each kind is 30%, 45% and 25%. The public courses curriculum covers 9 areas, namely culture, philosophy, values, society, religion, literature, art, science, and society and behavior. The school requires every student to choose 11 courses out of each field. Undergraduate education emphasizes learning, which should reach a certain balance between depth and breadth of professional exploration; embodying the basic spirit of both science and humanities. Finally, the MIT undergraduate curriculum consists of core courses, department requirements courses, and free elective courses. The proportion of core courses is as high as 50% or 180 units; the proportion of required courses (specialized courses) is only 30%; the proportion of free elective courses is 20%. Although MIT is renowned for its science and engineering, the college pays close attention to arts and humanities. This educational essence reflects the fact that MIT intends to balance education between science and humanities.
Nowadays, the undergraduategeneraleducationcurriculum in the West has shifted from a single, faculty-prescribed,generalprogram to a diverse array of elective, student-choice-driven, specialized programs ofgeneralstudies (Zai, 2015: 196). General education is enriched; courses like conflict management, flexibility in response to change, and effective communication are taught within general undergraduate education for personal development. This can increase leadership skills, adaptive coping skills, and mental well-being, which will support students in being successful in college and beyond (Whitehall et al. 2016: 241).
An Analysis of the Main Problems Experienced by Chinese College Students
With the wide promotion of undergraduate education, there came a dramatic increase in the number of Chinese college students. Meanwhile, higher education remains tied to an elite and specialized model, which leads to an imbalance between aims and needs. This section intends to explore the main problems emerging from the following four aspects.
(1) Difficulties regarding the pursuit of interests
Many Chinese local college students are lost in their professional and career choice. Influenced by the exam oriented educational system, a large proportion of Chinese students are unable to find their true interests. They are confused in the domain and field of expertise they are longing for. There is a gap between national college entrance examination (without the chance to choose certain subjects) and college subject choice. High school students have no chance to choose their subjects for entrance examination. However, they study subjects related to their field right after they enter the college. This leads to nearly 53% of undergraduates not being interested in their major.
(2) Uncertainty of career plans
College students are unprepared in terms of planning their future career. It is expected that undergraduate education is linked closely with a future career; however, undergraduate education remains unclear and unorganized. According to research by Lv (2014), Chinese college students' career choices are mainly influenced by three factors: features of the profession, advice from family and peers, and social common sense.
Features of the profession:
Employment status and salary level;
Curricula and academic requirements;
Academic level of lecturers;
Domestic and overseas school exchange;
Postgraduate entrance examination or future research vacancies;
Learning environment.
Advice from family and peers:
I choose this subject due to my family members work in this field;
It has great potential opportunities to go abroad in this domain (wealthy family);
The feature of work is relatively guaranteed (poor family);
Parents or relatives' influence;
Suggestions from friends or seniors;
Social common sense:
The profession is popular or rare;
The current economic situation is not ideal, doing this kind of professional work is relatively stable, e.g. teaching, agriculture, forestry, machinery and other professions;
This kind of profession can make the occupation status higher in the future, such as law, finance, accounting etc.
(3) Lack of motivation
Chen (2006b) did a questionnaire survey of 404 teachers and 659 senior students at Peking University in June 2000. The results show that most of the students and teachers claim that the timing of professional choice is premature. Students are not interested in these specialties if it does not pertain to their motivations or interests. Based on the survey, 40.1% of students have attempted to shift their specialty during their four years of study without much potential opportunities. Furthermore, 65% of students and 58% of teachers think that the compulsory courses are lengthy and elective courses are limited.
According to a recent survey by the recruitment website CareerBuilder (CareerBuilder, 2013), many Americans have never expected to work in a profession related to their college field of study. Of the 2,134 employees surveyed, 47% of them were university graduates whose first job was irrelevant to their major. In addition, 32% of college graduates say they have never worked in areas related to their studies. 64% of the students claim they abandoned pursuit of their ideal degree, 61% of respondents state they still believe they can find their ideal jobs. Finally, just over 1/3 of graduates state they would have had chosen a different university (OShaughnessy, 2013).
(4) Psychological barriers
With 40 years of reformation and 'opening up' policies, the level of economic and technological development has greatly improved in China. The imbalance between the fast development of materialism, and the lack of spirituality and morality is radical. For college students who are lacking life experiences, they find it stressful to deal with studies and life problems. They are easily exposed to depression, uncontrollable emotional swings and weak will.
According to a psychological health survey among 2,080 students from 14 universities in Jiangsu Province, 19.2% of college students had various psychological symptoms and their problems were more serious than those of young professional people (Fan and Wang, 2001). In a study of 5,220 students from 59 universities in Beijing, Fan and Wang further show that students with mental health problems accounted for 16.71% of the whole student body. The four grades (freshman, sophomore, junior and senior) occupy 15.75%, 17.56%, 17% and 16.04% respectively. Moreover, that SCL-90 factors of college students are higher than those of normal people indicates that the university student groups are more sensitive towards mental problems (ibid).
During the past 10 years, the psychological problems of Chinese college students have also increased. About 1/3 of students in the 3 universities in Jilin province were to be at risk of developing psychological problems in research conducted in 2015. Psychological problems are increasingly prominent in so-called elite groups. Xu Kaiwen (2017), deputy director of the Psychological Health Education and Counseling Center of Peking University, found that 30.4% of freshmen at Peking University lose interest in their studies. He further discovered that 40.4% of students think living is meaningless—the way to live is simply following the logic of 'others' rather than 'living'. To this end, Xu defined this barrier as a "hollow disease" (ibid), whose characteristics are the depression, lost self, and the confusion of meaning and motivation of life.
The Necessity of Developing General Education in Chinese Higher Education Institutions
As discussed above, general education can not only enhance students' learning abilities, but can help them enrich their interests and broaden their horizons. Specifically, there is an urgent need for general education which can foster the reformation of the following aspects of education:
(1) There is a gap in the connection between high school education and university education. General education can play an important role in cultivating college students' learning skills, such as language communication, academic writing ability, and critical thinking.
From the perspective of human development, if education is to cultivate students in solely professional work, it is easy to overlook the development of students as a complete adult. Developing the training of professionals becomes the main theme in higher education. This leads to the students being prepared for their career but not for their life. As a result, general education is for preparing citizens to live engaged, responsible, and meaningful lives.
(2) General education can make students set clearer goals in choosing their subjects.
Critique is the fundamental ethics in higher education institutions, where ideas and thoughts are born, nurtured and flourish (Yang, 2016). Therefore, from the perspective of the ultimate goal of a person's education—namely moral guidance—the manner in which professional knowledge is divided carefully can lead to excessive segmentation. The difference in terms of students' learning content is obvious, so it is difficult for students to acquire a holistic understanding of life. It helps them recognize the relation between knowledge and ability from the perspective of thinking, alongside fostering their problem-solving ability. From the perspective of employment, the job market is more complex and competitive than traditional society. It is necessary to build up a critical thinking ability that is geared towards advanced problem solving, allowing former undergraduates to function better in society with the proper cognitive tools garnered from education.
(3) General education helps cross-disciplinary and interdisciplinary education. This mode can help students establish a systematic and comprehensive knowledge system, and thus integrate the knowledge of different disciplines. Whatever the method of reflective thinking and data collection, learners can exchange and cooperate from a more open and interdisciplinary perspective when faced with problems, and are actively involved in the communication between different specialties.
Professional education is dominant in Chinese society. It is based on the development of the economy and an integrated disciplinary system. It matches up with the requirements of students, society and knowledge. "Before the reform and 'opening-up policies,' the mainstream subjects of undergraduate education are science, technology, culture and industry. It was highly targeted with the increasing number of college students. Only if universities still cultivate a mastery of professional skills, this model could not support the undergraduate and graduate education. It is difficult to go forward" (Chen, 2006a).
(4) General education enriches one's spirit and helps one overcome mental illness.
Mental illness in this case encompasses not only the severe psychological problems of domestic college students, but also the difficulties faced by foreign college students. A report from the 'Crisis on Campus' organization, published by the American Psychological Society, says nearly half of college students feel "desperate"; nearly 1/3 of students admit that over the past 12 months, due to excessive depression, they have a conflicted academic and social life. "Stanford Duck Syndrome" means that Stanford students are seemingly relaxed, like a duck living in the California warm sun, but in fact the water is anything but calm and requires them to constantly paddle to stay afloat. A student of Stanford University is also exposed to fear, anxiety, depression and emptiness to some extent. Few college freshmen realize that the biggest challenge in a university lies not in the academic work load, but in the anxiety and unhappiness of everyday university pressures. The higher the score, the higher the expectation, and the more anxiety there is.
The 2010 National Survey of Counseling Center Directors (NSCCD) found that 44% of counseling center clients had severe psychological problems, a sharp increase from 16% in 2000. The most common of these disorders were depression, anxiety, suicidal ideation, alcohol abuse, eating disorders and self-injury. A 2010 survey of students by the American College Health Association found that 45.6 percent of students surveyed reported feeling hopeless, and 30.7 percent reported feeling so depressed that it was difficult to function during the past 12 months (Eiser, 2011).
While depression and anxiety consistently rank as the most common mental disorders treated at college counseling centers, an often overlooked but equally serious problem is the rising number of students struggling with eating disorders, substance abuse and self-injury. The NSCCD study found that 24.3% of college counseling center directors have noticed more clients with eating disorders, 39.4% have noted an increased number of clients suffering from self-injury issues and 45.7% have reported an increased number of clients struggling with alcohol abuse (Eiser, 2011). In agreement with Deresiewicz (2008), elite students deliberately show outsiders an approachable confidence and a sense of control over their life. However, they know that under these bright faces you can read clues about fear, anxiety, depression, and emptiness.
Shengsheng Forum: An Application of General Education by Students and for Students
Based on the application of developing general education in universities, Shengsheng Forum was founded by the Chaoyang Campus Student Union. Its theme is 'Responsibility, Thinking, Expressing and Sharing' and it is the first influential student forum for improving humanities education, specifically geared towards dealing with science and engineering students' weaknesses in the arts and humanities. The Forum's regular activities include 'news commentary', a 'round table forum', 'topical debates', 'sharing reading', 'film study' and other fundamental, practical activities. Within 2 years it has now grown to be a widely influential student society.
The primary purpose of Shengsheng Forum is to promote interdisciplinary, cross-disciplinary, and multi-disciplinary study. As shown in Figure 1 below, its routine activity model is based on the development from individual presentation to the introduction of social issues. The next stage is to explore the topics within philosophy, history, art, social sciences and other dimensions dig deeper in group discussion. With interesting book reviews, film study, argumentative talk and critique writing, the students' horizons are widened and critical thinking abilities are solidly enhanced.
Figure 1. Routine Activity Model of Shengsheng Forum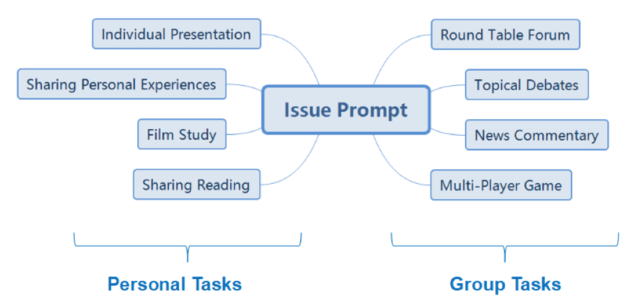 Based on interviews and feedback, this is a successfully innovative application of general education in the form of an undergraduate students' campus forum. It helps promote liberal arts education advocated by students and for students, which can be regarded as a new form in the model of professional education based on general education in the Chinese context.
Conclusion
The curriculum is the educational content and processes chosen by a school to achieve the goal of personal training. It is the carrier of talent, the main channel for students to acquire knowledge, and the source of students' spiritual world.
First, we should pay attention to the combination of science and humanities. It is important to strengthen students' scientific education, but humanistic education must be promoted too. General education's core function is that it can provide a critical and broad vision of critical thinking and problem solving skills. Second, we should realize the intersection of disciplines. The interdisciplinary curriculum embodies the importance of the all-round development of people and the cultivation of innovative ability. Modern social science and humanities research often crosses traditional disciplinary boundaries. As such, many policy decisions need to be rethought, or indeed completely reversed. Therefore, we should pay more attention to the interdisciplinary curriculum system by laying the foundations for the cultivation of interdisciplinary perspectives and cross-cooperation in the research field. Third, we should provide personalized elective courses. Students are allowed to choose courses that they are interested in. Diversified courses not only meet the individual needs of students, but broaden the horizons of students as well. They also provide necessary supplements to the development of students' special abilities. We should set up flexible practical courses, for example, instrumental engineering. Setting up rich and flexible practical courses may help students enhance their creativity. Finally, it is necessary to encourage students' campus activities as an innovative attempt to promote liberal arts education for self-awareness advocated by students. They can be integrated to promote the cultivation of innovative talents. China is facing problems in terms of its unequal educational resources, large number of students, low average teacher level and high cost of graduate education. It is thus crucial to develop general education.
"It is great masters, not huge buildings that characterize a university" (Mei, 1941). To this end, in line with Eastern and Western scholars, I regard general education in college as "a distinctive cornerstone of the arts of liberty that prepare citizens to live engaged, responsible, and meaningful lives"(Long, 2018). Thus, education should be general once and for all.
---
Acknowledgements
This work was supported by Jilin University Teaching Reform Research Project [2017XYB227].
---
References
Bai, Qiang. Experience and enlightenment of innovative talents training in US top universities based on investigations at Harvard, Stanford and Massachusetts Institute of Technology. Journal of Teacher Education, 3, 2015, pp. 112-117.
Chen, Xiangming. An analysis of core concepts about general education. Journal of Higher Education, 3, 2006a, pp. 64-68.
Chen, Xiangming. On the relationship between general education and professional education: A case analysis of Yuanpei program of Peking university. Peking University Education Review, 3, 2006b, pp. 71-85.
Dai, Changlan. The first "post-90s" generation of college students survey report: Weak anti-frustration ability. China Economic Net, November 12th 2008, http://www.ce.cn/xwzx/gnsz/gdxw/200811/12/t20081112_17351666.shtml. accessed January 20 2018.
Deresiewicz, William. The disadvantages of an elite education. The American Scholar, 2008, https://theamericanscholar.org/the-disadvantages-of-an-elite-education/#.WsBm4GYh02z. accessed May 21 2017.
Eiser, Arielle. The crisis on campus. Monitor on Psychology, 42: 8, 2011, http://www.apa.org/monitor/2011/09/crisis-campus.aspx. accessed February 8 2018.
Fan, Fumin & Wang, Jianzhong. A study on Beijing college students' psychological quality and health. Research on Education Tsinghua University, 3, 2001, pp. 26-32.
Gao, Qiuxiang. Review of undergraduate training program of Massachusetts Institute of Technology. World Education Information, 10, 2007, pp. 46-50.
Li, Manli. Reflection on the philosophy and the operational system of general education in Chinese universities: 1995-2005. Peking University Education Review, 4: 3, 2006, pp. 86-99.
Li, Xiaowen & Liu, Xu. Review on the analysis of factors influencing university students' mainstream choice. The Science Education Article Collects, 335, 2015, pp.109-110.
Long, Christopher. Description of Journal of General Education: A Curricular Commons of the Humanities and Sciences, http://www.psupress.org/journals/jnls_jge.html. accessed March 10 2018.
Lv, Cixian & Li, Weihua. An analysis of influential factors of college students' professional choice. Higher Education of Engineering Research, 1, 2014, pp. 81-85.
Mei, Yiqi. An interpretation of university. Tsinghua Journal, 13: 1, 1941, pp. 1-12.
OShaughnessy, Lynn.Career proved irrelevant to college students' majors by recent research, 2013, http://www.cnetnews.com.cn/2013/1230/3007153.shtml. accessed May 16 2017.
Pusey, Nathan M. General Education in a free society: Report of the Harvard Committee (Book Review). The Library Quarterly, 16: 2, 1946, pp. 162-164.
Whitehall, Anna Petra et al. Being smart is not enough to ensure success: Integrating personal development into a general education course. Journal ofGeneralEducation, 65: 3-4, 2016, pp. 241-263.
Wilson, Louis R. General education in a free society: Report of the Harvard Committee (Book Review), College & Research Libraries, 7: 2, 1946, pp. 186-187.
Xu, Kaiwen. Hollow Disease: A psychological barrier. Public Health, 016, July 25 2017.
Yang, Mei. Rethinking critique as ethics in higher education institutions. Critical Arts: South-North Cultural and Media Studies, 30: 2, 2016, pp. 158-170.
Zai, Robert. Reframinggeneraleducation. Journal ofGeneralEducation, 64: 3, 2015, pp. 196-217.
Zhang, Baojun. An analysis and strategy of "post-90s" college students' psychological characteristics. Journal ofIdeological and TheoreticalEducation, 4, 2010, pp. 111-114.
Suggested Reading from
Inquiries
Journal

Inquiries Journal provides undergraduate and graduate students around the world a platform for the wide dissemination of academic work over a range of core disciplines.
Representing the work of students from hundreds of institutions around the globe, Inquiries Journal's large database of academic articles is completely free. Learn more | Blog | Submit
Latest in Education
What are you looking for?